The main reason to consider Double Glazing in Coromandel Valley is to keep the heat in during the winter. Average low temperatures in July and August are 8 degrees with average highs around only 15. 
Double Glazed windows and doors are very effective at keeping the heat in which leads to a more comfortable and energy efficient home.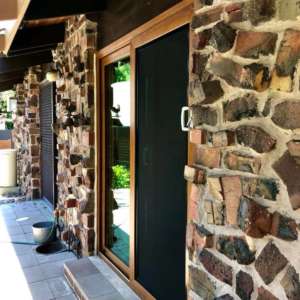 We've done many installations in and around the Adelaide Hills, including this one in Coromandel Valley which left the owners, Rick & Koulla Fielder delighted.
"We have found Paul to be a totally trustworthy individual who stands by his product and provides a service that we are more than happy to recommend to anyone looking for quality windows and doors with increased utility that will enhance the appearance of their home whilst also providing a greater level of security." – Rick & Koulla Fielder, Coromandel Valley
In another project the client had a problem with direct sunlight solar gain in summer via some west facing windows and doors and high heat loss in winter so opted for our best performing low-e glass Cardinal 366. This glass, provides a very low u-value together with a low solar heat gain coefficient, perfect for his needs and being 6mm thick and toughened is also perfect for high bushfire risk areas, suitable up to a BAL rating of 29.
In addition to the energy efficiency, customers also appreciate the added security, weatherproofing, fire resistant properties and UV resistance. We're also often complemented on the care, workmanship and professionalism of our installation team.
"The installation of the windows and doors was achieved by Paul's team who were meticulous in their approach to their work and were respectful of our home."
Because we manufacture our products in-house and have many years experience in the business, we are flexible and able to deal with unexpected circumstances and events as they happen. We stand behind our products and care about our customers so we will always do our best to ensure the customer is happy with their installation. 
Here's a few more words from Rick & Koulla speaking about this:
"During the installation process and after the job was completed, there were issues that arose that were beyond the control of Paul/DoubleGlazed.  These issues were resolved by Paul/DoubleGlazed without hesitation and with a minimum of fuss."
Here's another Coromandel Valley Double Glazing install and review from our customer:
"Doubleglazed were excellent, the windows are fantastic. Great job! The quality of the windows and doors manufactured by Doubleglazed.com is very good – I could not live without them now and their performance has been excellent. Paul and his team did a great job." – Simon Camp